Trainee stories
Chris Powell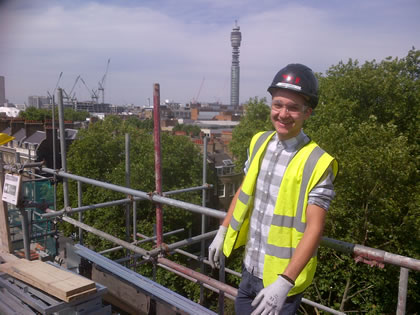 Just over a year ago Chris Powell, 22 from Shepherd's Bush, found himself unemployed after the electrical firm he was working for went bust. After being out of work for two months his local Jobcentre Plus referred him to the Kotuku Environmental Labourer Project (KELP).
During the two week course Chris successfully gained his CSCS Operative Level Green Card and Kotuku's Certificate of Environmental Awareness, as well as proving his reliability and enthusiasm to get back into work. Because of this Kotuku were able to recommend Chris to Michael J Lonsdale (MJL) , a London based company specialising in mechanical and electrical work. MJL agreed to employ Chris on a six month full time contract as an 'Environmental Labourer', placing him on the British Museum site.
Chris remembers what it was like getting back into work, "It took a bit of getting used to again after being unemployed for a few months, especially the early starts. You quickly get into a routine though and obviously the first pay check helps. I started off doing general labouring work; offloading deliveries, making sure the site was tidy and working with other trades when they needed an extra pair of hands".
After six months of early mornings and late finishes, Chris was given a pay rise and made a permanent member of staff with the title of 'Logistics Coordinator'. He has taken an interest in health and safety and now gives site inductions, as well as accompanying senior staff on site inspections and compiling health and safety reports for MJL.
Chris is now a qualified first aider and is currently enrolled on a Site Managers Safety Training Scheme, all of which has been funded by MJL. He has now been working for over a year after starting in July 2012, and has become a valuable employee.
"When I first signed up to KELP I wanted to continue working as an electricians mate and never thought I would have got into health and safety. I feel I've come a long way since then and am a lot more confident. Kotuku really helped me get my foot in the door and along with MJL gave me the opportunity to start building a career".

Chris has been working on the British Museum site for MJL since July 2012 and has earned a permanent contract.